YOUR ANAHEIM PAINTING CONTRACTOR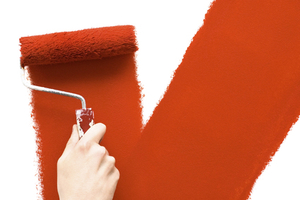 A fresh coat of paint can make a big difference in your home, so when your rooms are beginning to wear and tear, or your are just ready for a change, see about taking advantage of the interior painting services of an experienced Anaheim painting contractor. A visit from a professional house painter can go a long way for not only your enjoyment of your home but boosting its value as well. Your home's exterior is exposed to the elements year round, which means that it is enduring constant punishment that will cause its appearance to degrade over time. With a skilled painting contractor you can have both the interior and exterior of your home looking great again, giving your home's value a serious shot in the arm.
When you are in need of an experienced Anaheim painting contractor with several decades of experience providing top quality service, turn to an expert painting contractor from Orange County Painting Pros.
Anaheim House Painter
They say you should never judge a book by its cover, but a first impression is unfortunately the most important one that you will ever make. This goes doubly so for your home. If your Anaheim home has not had a recent visit from a house painter then everyone that drives by your home could be getting the wrong idea, especially as your paint begins to fade and chip away. A painting contractor like a professional house painter from Orange County Painting Pros, can make it so your home will always impress at first glance. A fresh coat of paint on your home's exterior will help protect your house from the elements, as well as preserve or potentially even increase your home's value as well.
If you are considering getting the services of an Anaheim house painter then you need look no further than Orange County Painting Pros for all of your interior painting and exterior painting needs.
Anaheim Interior Painting
Having great looking interior painting in your Anaheim home is an important part of not only enjoying the experience but protecting your investment as well. Color choice can make or break a home sale, as various colors invoke different feelings that may actually turn away a potential buyer. With the assistance of an interior painting contractor you can choose the right colors that make your rooms feel more spacious and welcoming, helping you secure a potential sale or just feel more comfortable in your own home.
If you are considering selling your home, or you just want to add a vibrant and energizing feel to one of your rooms, an Anaheim interior painting professional like the experts at Orange County Painting Pros can help you get the most out of your home.


Anaheim, CA
See What Homeowners Say About our House Painters in Anaheim, CA:
---
OMG!!!

OMG!!! The George Parks Roofing & Painting crew is great!!!First, they removed our old roof, and then replaced it with a new GAF roof. They also took care of the city inspection and cleaned up all of their materials when the job was completed. Since they did such a terrific job, we then decided to hire them to paint our house.The house looks fantastic and we are constantly getting compliments from our neighbors. Thanks GPR&P for making our house look like a home again!

---



We bought an older home that needed lots of work; painting, window glazing, roof tile replacement… The George Parks crew came in and saved all of the old windows, helped us find the traditional trim color we wanted and rebuilt our front pergola which was rotting. The finished result is exactly what we wanted. Our neighbor is raving that the house has never looked more beautiful! The crews were so dedicated they worked late into the evening and were always polite respectful. The owners are attentive and follow up consistently. We can definitely recommend them with enthusiasm and plan to use them in the future.

---



Recent Articles
The Importance Of Painter Prep Work

There is much more to painting your home than one would think. Getting a fabulous paint job isn't just about the painting, but also in the prep work that goes on way before the paint is applied. Just like with every project, proper planning can help ensure success. Here are a few things you will...

Read More
Waterproofing Extends the Beauty, Value, and Enjoyment of the Deck

Having a deck on your Anaheim property is a fantastic convenience. A custom deck is the perfect place to entertain guests. It provides you and your family with the ability to enjoy every portion of your property's exterior. In sum, your deck adds substantially to the way that your property is used. In this way,...

Read More
If you are looking for an Anaheim Painting Contractor, give us a call at 949-929-2763 or fill out our online request form.