ARE YOU IN NEED OF A FULLERTON PAINTING CONTRACTOR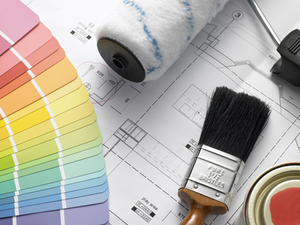 When its time to add a new look and feel to your home, you want the assistance of a painting contractor to see that you make the right choices and that the job is done cleanly and correctly. Choosing the palette for your home can be a serious headache, especially if you do not have the experience of a painting contractor and interior painting professional. Different colors convey different feelings, moods, and are affected by lighting in different ways. If you choose the wrong colors, you could end up with a very oppressive feeling in one room that actually makes it seem smaller and may even result in turning away potential buyers if you are looking to sell. An interior painting contractor knows how these colors work with one another and the best way to make even a small room feel more lively and open. Eliminate the guesswork by hiring the service of a painting contractor from Orange County Painting Pros today.
A professional Fountain Valley painter from Orange County Painting Pros has years of experience providing the Fullerton area with the absolute best painting results. When you are ready to see the difference that a painting contractor can make, contact us today for a free consultation.
Fullerton Interior Painting
If you are undergoing a major interior remodel or just want to make the color in your kitchen or bathroom pop, there's no reason you should burden yourself with a messy and potentially disastrous DIY project when you can have an interior painting professional handle the work for you. An experienced interior painting contractor will be able to help you make the right choices in color selection and help you achieve the look and feel that you are aiming for, all while easily remaining within your available budget.
When you're ready to redo the interior of your house, an interior painting expert from Orange County Painting Pros is up to the task.
Fullerton House Painter
your home's exterior goes a long way to determining its resale value and attracting the attention of potential buyers. A poorly painted or worn home is much less likely to move on the market no matter how nice the interior looks. If you want to increase your chances of a sale or just boost your curb appeal and resale value, then you need to get the service of a professional house painter today. A house painter will help you achieve the look you want, and see to it that the paint is properly applied to keep your home protected from the elements and potentially harmful organisms. Our house painters understand that there's more to the paint on your home than just the look it achieves, but that your paint job is one of the first defenses to protecting the significant investment that is your home.
A professional house painter from Orange County Painting Pros is the best answer for any and all of your exterior painting needs.

Fullerton, CA
See What Homeowners Say About our House Painters in Fullerton, CA:
---
excellent work

They worked quickly, arrived on time, did excellent work and did a great job cleaning up. We are very happy with the work.

---



Great customer service, great workmanship, and very professional. Highly recommended!!

---



Recent Articles
Why Use Premium Paints vs. Cheap Paint

When it comes time to apply a new coat of paint, it can be difficult enough determining what color scheme you want to go with, and chances are that you haven't taken into consider the quality of the paint that you might be using. As is often the case with many things, if you take...

Read More
The Importance Of Painter Prep Work

There is much more to painting your home than one would think. Getting a fabulous paint job isn't just about the painting, but also in the prep work that goes on way before the paint is applied. Just like with every project, proper planning can help ensure success. Here are a few things you will...

Read More
If you are looking for an Fullerton Painting Contractor, give us a call at 949-929-2763 or fill out our online request form.