LOOKING FOR A HUNTINGTON BEACH PAINTING CONTRACTOR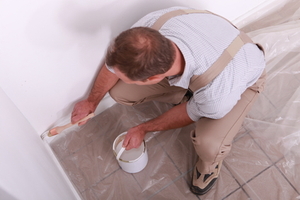 The service of a Huntington Beach painting contractor is one of the best ways to improve the look of your home's exterior. A fresh coat of paint can go a long way to boosting your curb appeal, increasing your resale value, and protecting the investment that you have put into your Huntington Beach home. Undergoing a major home painting project can be an enormous headache if you do not get the assistance of a painting contractor. A painting contractor can help you make the right palette choices to convey the look and feel that you are going for. Don't make the mistake of undergoing an interior painting project on your own, get the assistance of a house painter and interior painting contractor.
The painting contractors at Orange County Painting Pros can make all the difference when it comes to achieving the best in long-lasting results. We'll take the care and time needed in painting the interior and exterior of your home to get it looking new, crisp, and clean.
Huntington Beach House Painter
The exterior of your Huntington Beach home is constantly being punished by wind, rain, and heat, and this can take a toll on your paint job. As paint wears, fades, and chips away, your home is left exposed to the elements and harmful organisms that could cause lasting damage to the structure of your home and depreciate its value if left unchecked. The best way to prevent this from happening is by protecting your home with a new coat of a paint. A professional house painter can help get your home looking like brand new again and protected against the elements for years to come. The house painters at Orange County Painting Pros will take you through all the steps of the project from start to finish and conduct a consultation so you know exactly what the work will cost upfront.
Don't make repainting your house a hassle, get the service of a professional house painter, like the professionals at Orange County Painting Pros.
Huntington Beach Interior Painting
If you have a bold new direction that you want to take the interior of your home, then see about scheduling an appointment from one of our interior painting contractors. We have decades of experience providing the Huntington Beach area with only the best in interior painting services. We can help make your rooms feel more spacious, or if there's a particular mood that you wish to convey, our interior painting experts know what palette choices can be made to bring all of that together.
See What Homeowners Say About our House Painters in Huntington Beach, CA:
---
I truly got lucky and chose George Parks and their whole crew to take care of my home. Their work was excellent, professional, on time, and reasonably priced. I will definitely continue to use them for future projects of mine!!

---



George and Chris Parks are great! Very professional and talented in their craft. I would recommend their services to anyone!

---



Recent Articles
4 Signs That You Need Repairs For Your Wooden Deck

A wooden deck can be a wonderful addition to your home, giving you and your family or friends an excellent outdoor hangout space, or just giving you a quiet little sanctuary to escape and just enjoy the outdoor areas of your home. Your home's deck is a major investment both in the value of your...

Read More
How to Avoid Big Mistakes with Interior Painting

Interior painting is one of the more enjoyable aspects of designing or changing your home. Picking the color of your dream home helps you express your individuality. Taking the dream home you have lived in for years and changing the look with new paint colors is like getting a new place. However there are some...

Read More
If you are looking for an Huntington Beach Painting Contractor, give us a call at 949-929-2763 or fill out our online request form.