Laguna Beach, CA Painting & Renovations Contractor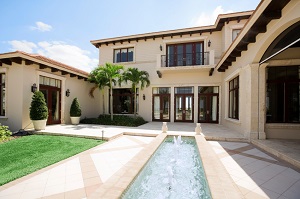 If you live in Laguna Beach, you know how lovely the weather is year round. Yet storms and other weather can do some damage to the exterior of our properties over time. An almost constant sea wind that carries along sand, salt, and moisture is constantly scouring the outside of our buildings.
In our area of the country, the constant scrubbing of wind, sand, moisture, and sea salt can dull out the paint job on the exterior of our homes. The paint fades more quickly in this type of climate, simply because so many elements work against it.
But when professionally done with high quality paint, your paint job can give you years of service in protecting your home from the weather conditions that work to destroy it.
Your home can be the beauty on the block when you have your Laguna Beach exterior painting done by our professionals here at Orange County Painting Pros!
There's nothing that makes your home look fresher and more appealing than a new paint job on the exterior. Our painters can create a look for your home that's both attractive and protective, ensuring you enjoy it for years to come.
Interior & Exterior Painting in Laguna Beach
Repainting the interior or exterior of our homes is a quick way to change the entire look of the home. While the project requires much work, it's one of the fastest home improvements you can make.
That's why so many homeowners and business owners opt for this type of change. They need something to create a new space, bring the property up to date, and add value to the property. Our professional Laguna Beach painting contractors will give you all that and more.
Orange County Painting Pros consists of experienced painters who can give you the advice you need for your painting project. Our focus is on making sure your space looks and feels as wonderful as you imagine! We want your experience to be a positive one so you enjoy the process of creating a great new look for your home.
Entrusting your painting project to our professionals means you'll have the time you need to spend with family instead of working on a project that can take several weekends to accomplish. Our professionals can get the work done with quality workmanship and in a much shorter time than you may imagine. For expert services like these, call on our pros at Orange Counting Painting Pros! Our expert services include:
Exterior Painting
Interior Painting
Wood Repair
Termite Repair
Stucco Repair
Waterproofing
Window Restoration
Stains & Clear Sealers
Acoustic Ceiling Removal
Textured Finishes
Drywall Repair
Power Washing
See What Homeowners Say About Our House Painters In Laguna Beach, CA:
---
The house looks beautiful

It was a pleasure to work with George Parks and his crew. We wanted our house painted and I thought we needed a new roof. George came out, looked at it and said with a few repairs and touch ups we could get another five years on the roof. The quote for the painting was thorough and very reasonable. They came out on schedule and worked very hard, right through a heat wave. When items came up that were not on the original quote (mostly our requests) he provided a detailed update with no hard sell. The house looks beautiful. We would absolutely use George and his team again.

---



Recent Articles
Specialty Faux Finishes For Laguna Hills Interior Painting

When you have your Laguna Hills home painted on the interior, you have several options in specialty faux finishes that you can use to create drama with these unique painting techniques. Little extra touches when it comes to your interior design can make your home's interior look fabulous and interesting. Specialty painting techniques are one...

Read More
Why Use Premium Paints vs. Cheap Paint

When it comes time to apply a new coat of paint, it can be difficult enough determining what color scheme you want to go with, and chances are that you haven't taken into consider the quality of the paint that you might be using. As is often the case with many things, if you take...

Read More
If you are looking for a Laguna Beach painting contractor, please call us at 949-929-2763 or fill out our online request form.