Los Alamitos, CA Painting & Renovations Contractor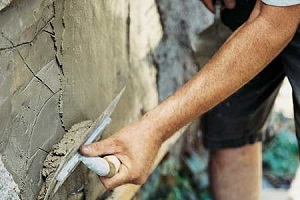 Living in Los Alamitos means our homes are constantly being bombarded with natural elements that slowly wear down the surface materials. Over time, the exterior building materials will lose their seal and the paint will look dull and weathered.
The sea breezes carry along a lot of salt and sand, and join that with moisture and you get elements that naturally scrub the surfaces day in and day out. That's what makes it important for those of us living in Los Alamitos to keep our homes sealed and water tight as much as possible.
This means keeping up with the exterior surfaces of our homes, ensuring paint and other sealing methods are doing their jobs to protect our valuable assets.
Repainting and resealing are important measures to take for keeping the home in great shape. Whether repainting the exterior or exterior, it's a tough job that takes time and plenty of skill.
Stucco Repair in Los Alamitos
Repainting often requires repairs to be made first. Drywall, wood, stucco, and more can have damages that need to be address prior to painting. The surfaces need to be repaired appropriately, holes filled, and many more preparations in many cases.
Your professional Los Alamitos painting contractors at Orange County Painting Pros can handle your interior or exterior painting and sealing projects, including any preparations or repairs that need to be made first. Whether you need stucco repair services, your wood repaired from termite or other damage, or your windows restored, you'll have only one thing to worry about -how you'll spend all the free time you've saved by hiring us!
Exterior Painting
Interior Painting
Wood Repair
Termite Repair
Stucco Repair
Waterproofing
Window Restoration
Stains & Clear Sealers
Acoustic Ceiling Removal
Textured Finishes
Drywall Repair
Power Washing
Exterior Painting in Los Alamitos
Is your curb appeal lacking? If so, exterior painting your Los Alamitos house is a great way to give you and your home a lift this spring. There's no better time of year to make this type of change for your home. It livens up your daily atmosphere and gives you hope for new things to come in the new year.
Whether it's on the exterior or interior of your home, a fresh paint job also adds a protective layer that helps your home stay in good condition. Resealing the home both indoors and outdoors means that you're protecting it not only from moisture, but from things like insects that would otherwise find their way in.
If you want your home to last and last, add years to the durability of your home's exterior and interior surfaces by keeping it sealed and looking great with paint!


Los Alamitos, CA
See What Homeowners Say About Our House Painters In Los Alamitos, CA:
Orange County Painting Pros appreciates your feedback. Please give us more time to collect your reviews and they will be displayed below.
---
Recent Articles
Specialty Faux Finishes For Laguna Hills Interior Painting

When you have your Laguna Hills home painted on the interior, you have several options in specialty faux finishes that you can use to create drama with these unique painting techniques. Little extra touches when it comes to your interior design can make your home's interior look fabulous and interesting. Specialty painting techniques are one...

Read More
10 Secrets to a Perfect Paint Job

Painting the inside of your house might seem like a daunting task, and many Anaheim homeowners don't feel up to the task. Although it's often a good idea to hire a pro, here are ten little secrets to a perfect paint job, which can help you get a smooth finish and a satisfactory result. Water-based...

Read More
If you are looking for a Los Alamitos painting contractor, please call us at 949-929-2763 or fill out our online request form.