Orange County Acoustic Ceiling Removal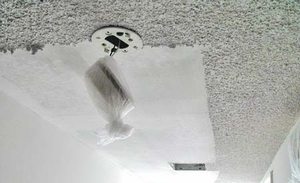 If you have a "popcorn ceiling" or acoustic ceiling, chances are your home could use some updating. But no matter how much you invest in remodeling the interior of your home, it'll always lose a bit of charm and value if you still have an outdated ceilings installed. You might be thinking, "How often are my guests going to be looking up at my ceiling anyway?" True, you and visitors to your home may not take much notice of your ceiling, but it still brings down the overall appeal of the interior. And if you are looking to sell your home in Orange County, CA you can bet potential buyers ARE making note of those popcorn ceilings. Luckily, Orange County Painting Pros is an expert at Orange County acoustic ceiling removal. We make it as smooth and efficient of a process as possible when removing acoustic ceilings, and we always leave our clients' homes clean afterwards.
Removing Popcorn Ceilings in Orange County, CA
Being a professional Orange County painting contractor since the 1970's, you can bet we've seen (and removed) our fair share of acoustic ceilings. We know popcorn ceilings used to be all the rage at one point in time, and why not? You got to add instant texture to a part of your home that was otherwise boring. Now, of course, home interior design has shifted dramatically, and years of dealing with acoustic ceilings have left many homeowners desperately wanting an update for their dated ceilings.
While there are a fair amount of decent DIY acoustic ceiling removal tutorials out there on the internet, it is not advised you go this route. You may save money – or you may horrendously damage your ceiling and end up paying a lot in repairs. But most of all, the major concern with popcorn ceiling removal is the potential presence of asbestos. Our Orange County acoustic ceiling removal experts have the proper training and equipment to deal with removing popcorn ceilings properly and safely. So save yourself the worry and the potential damages by calling our professionals first at 949-929-2763.
Recent Articles About Orange County Acoustic Ceiling Removal:
Orange House Painting - A Brief Overview for Californians

When it is seen on television, Orange house painting appears deceptively simple, especially in home makeover shows. But in reality, it is a complex job that involves patience, creativity, proper techniques and lots of practice to perfect the craft. Not everyone can just pick up a brush and paint their houses. The results would probably...

Read More
Waterproofing Extends the Beauty, Value, and Enjoyment of the Deck

Having a deck on your Anaheim property is a fantastic convenience. A custom deck is the perfect place to entertain guests. It provides you and your family with the ability to enjoy every portion of your property's exterior. In sum, your deck adds substantially to the way that your property is used. In this way,...

Read More
If you are looking for Acoustic Ceiling Removal in Orange County, please call us at 949-929-2763 or fill out our online request form.