Orange County Drywall Repair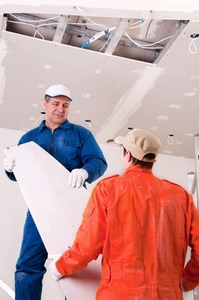 From the smallest dent to large holes, Orange County Painting Pros is the Orange County painting contractor you can rely on for expert drywall repairs. Small nail holes and such may be easy enough for the enthusiastic DIY-er to fix without issue, but larger holes and damages become more difficult the bigger they are, mostly because there's no backing to support the plaster patch. Ever tried to fix a hole caused by a doorknob that hit the wall too hard, only to find a few weeks later that the drywall repair kit you bought from the home improvement store appears to be caving in? Don't feel bad. It happens to most people. Our painters know there is more to Orange County drywall repairs than slapping plaster over the problem area, which is why we take special care to ensure that hole, or dent, or tear in your drywall is really, truly fixed – with long lasting results. So if you need drywall repairs in Orange County, be sure to give us a call at 949-929-2763 today.
Thinking of repainting the interior of your home? It is especially crucial to invest in quality drywall repairs if you choose a semi-gloss or shinier finish for you new interior paint scheme. The higher the gloss, the more different surface textures will be noticeable, such as between a patched up area of drywall and the surrounding, undamaged area. So while it may seem easy enough to slap some plaster on those dings, dents and holes, you'll be disappointed when that new paint finish makes the damages stick out like a sore thumb.
At Orange County Painting Pros our Orange County drywall repair experts make it look as though your walls have always been flawless. From patching large holes in drywall to repairing and replacing water damaged sheets of drywall, our painting contractors take care to pay attention to all the little details. Whether you're planning on just touching up the damaged areas or investing in a complete interior painting update, our team will give you the flawless results you crave.
Recent Articles about Drywall Repairs in Orange County:
Common Causes for Orange County Drywall Repairs

Just like how we have to go to the doctor every once in a while, our houses also have to go under repair every so often. From small touch ups to large scale renovations, there are a slew of things that can be done to make your house comfortable to live in and always seem...

Read More
If you are looking for Drywall Repair in Orange County, please call us at 949-929-2763 or fill out our online request form.