Orange County Exterior Painting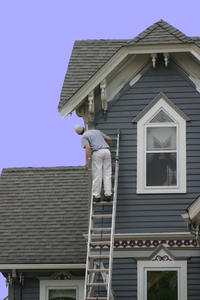 If you are looking for an experienced, honest Orange County painting contractor for an exterior painting project in Orange County, you've come to the right place! Orange County Painting Pros has over 40 years of experience in the house painting business, and we'll be happy to assist you with any Orange County exterior painting project, large and small in nature.
When painting houses and the outside of businesses in our service areas, our Orange County exterior painting contractors carefully protect landscaping features, hardscapes and other surfaces prior to beginning the painting process. Once we're finished, we do a thorough clean up of the perimeter to ensure your home looks as good as new – and aside from the outstanding new coat of exterior paint, you'll never know we were there!
Exterior house painting in Orange County, CA is a particularly lengthy and difficult task for some, but our experienced house painters are able to get the job done quickly and with beautiful results. This is because our Orange County painting company is made up of experienced, dedicated, honest, and licensed painting contractors. So you can rest easy knowing your job is in great hands with Orange County Painting Pros.
Our Exterior Painting Process Includes:
Surface Preparation – We can't stress enough how important it is for your home's exterior to be properly prepared for the application of paint. This often includes the  need for power washing prior to an exterior paint job in order to remove mildew, grime and dirt from the home's exterior surfaces. Also included is the scraping away of any loose paint, sanding, scuffing and caulking all gaps.
The Painting! – We'll prime and use premium quality exterior paints from top rated brands to ensure a lovely, uniform finish that lasts.
Clean Up – We clean up after ourselves daily, as well as at the completion of the project. All materials are removed and stored neatly in order to keep your home as orderly as possible during the project. At the end, you won't even know we were there we clean up so well!
Final Inspection – Talk a walk with us to see how we did! We'll inspect the painted exterior surfaces thorough and provide any touch ups necessary to ensure you get that first-class finish we at Orange County Painting Pros are known for.
Recent Articles about Exterior Painting in Orange County:
Newport Beach Exterior Painting for Home Improvement

There are a number of ways to improve a home in Newport Beach, CA, including decorating with art, rearranging furniture and changing the curtains; but one of the most striking modifications that can be done to a house in Newport Beach and beyond is to alter its paint color. Aside from painting the interior walls, Newport...

Read More
Orange House Painting - A Brief Overview for Californians

When it is seen on television, Orange house painting appears deceptively simple, especially in home makeover shows. But in reality, it is a complex job that involves patience, creativity, proper techniques and lots of practice to perfect the craft. Not everyone can just pick up a brush and paint their houses. The results would probably...

Read More
If you are looking for Exterior Painting in Orange County, please call us at 949-929-2763 or fill out our online request form.