Elastomeric Paints & House Painting in Orange County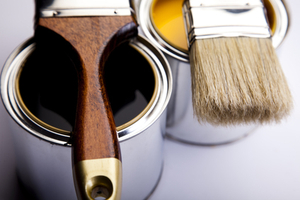 Elastomeric paints are basically like shrink- wrap for exterior surfaces, providing a flexible waterproof coating that protects the surface from damages. The finish looks like paint but is much thicker, forming a rubber-like membrane that will allow the substrate to crack underneath up to a fraction of an inch without any visual appearance. Elastomeric paints are typically used on areas with water penetration problems or severe cracking, such as stucco and other exterior surfaces around homes in Orange County. It is important to use a reliable Orange County painting contractor familiar with the the application of elastomeric paints as preparation is extremely important. At Orange County Painting Pros we have generations of experience and a team of licensed, professional painters with the skills and tools to ensure your project is completed to perfection. You can trust our expertise in the application of elastomeric paints in Orange County.
Why use elastomeric paints for certain exterior surfaces in Orange County, CA? For starters, ordinary interior and exterior paints are not intended to waterproof or fill cracks. Elastomeric paints produce a flexible layer that seals and bridges cracks while waterproofing these porous surfaces with a durable coating that is generally much thicker than paint. The elasticity is what ensures lasting protection against future cracking, and makes it a great exterior coating to use in the Orange County area.
Cracking and moisture intrusion problems are commonplace in our coastal area of Orange County which is why the need for elastomeric paints is so high in our market. While all exterior building materials are susceptible to expansion and contraction due to climatic changes, concrete and stucco are particularly vulnerable. Brick, metal, and some types of wood may also be coating in elastomeric paints, however, if needed. Orange County elastomeric paints offer great waterproofing results and ensure long lasting protection for exterior surfaces around both home and office. BUT it has to be applied correctly. Preparation is the key to longevity where most paints are concerned, and elastomeric paints come with their own set of special application methods. Methods our Orange County painting contractors are skilled in. So if you have a project that calls for elastomeric paint coatings, give us a call at 949-929-2763!
Recent Articles about Elastomeric Paint in Orange County:
Specialty Faux Finishes For Laguna Hills Interior Painting

When you have your Laguna Hills home painted on the interior, you have several options in specialty faux finishes that you can use to create drama with these unique painting techniques. Little extra touches when it comes to your interior design can make your home's interior look fabulous and interesting. Specialty painting techniques are one...

Read More
The Importance Of Painter Prep Work

There is much more to painting your home than one would think. Getting a fabulous paint job isn't just about the painting, but also in the prep work that goes on way before the paint is applied. Just like with every project, proper planning can help ensure success. Here are a few things you will...

Read More
If you are looking for Elastomeric Paints in Orange County, please call us at 949-929-2763 or fill out our online request form.