ORANGE COUNTY, CA PAINTING & RENOVATIONS CONTRACTOR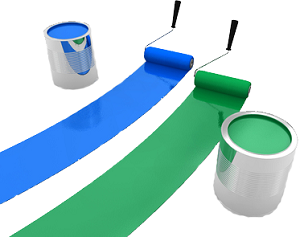 Orange County, California is a small region located along the Pacific Coast in the southern part of the state. There are many streams and waterways in the region, that flow to the ocean with some on the inland portions of the county that typically flow into the San Gabriel River or Santa Ana River.
Close to the coastal area, streams begin in the San Joaquin Hills or Santa Ana mountains and flow directly into the ocean. The names of the waterways were mostly given by the Spanish conquistadors during the 18th century.*
There are numerous towns, neighborhoods, communities, and cities in the county with many residents that have settled in this most gorgous part of our United States.
If you are one of the 3 million people that have made Orange county home, you may have heard about our painting company, Orange County Painting Pros, that have served your friends and neighbors since 1976.
Interior Painting in Orange County
Repainting the interior surfaces of your home can make it beautiful once again. If your home's interior is looking drab and run down, a fresh coat of paint is just what you need. Not only will your home look better, it will feel completely different. Imagine once again being comfortable in your home and pleased with how it looks. If you want to create a space you can be proud to show off, repaint your interior.
Special, custom work can be done on the surfaces of your home. We can create any type of look for you, whether it be intricate, detailed trim work or special texture treatments, or just a simple smooth painted surface. If you want something sophisticated and luxurious for yourself and your family, you can count on our 40 years of experience.
Expert services we provide:
Exterior Painting
Interior Painting
Wood Repair
Termite Repair
Stucco Repair
Waterproofing
Window Restoration
Stains & Clear Sealers
Acoustic Ceiling Removal
Textured Finishes
Drywall Repair
Power Washing
Exterior Painting in Orange County
Painting the exterior of your home will liven up your curb appeal and will give your home many more years of protection from the forces of nature. Storms, wind, rain, hail, dirt, dust, tree branches, and other elements constantly scour the surfaces of the exterior, eventually wearing it down. Repainting or resurfacing will create a seal against these destructive forces once again, adding years to the durability of your home's exterior.
Wood Repair & Termite Repair in Orange County
We can repair any surface that has been damaged by termite infestation. We can replace your windows and doors, roofing, siding, decks, fences, and more. Our repair specialists will work hard to restore the structural integrity of your home and will then restore the surface.
*Sources: http://en.wikipedia.org/wiki/Orange_County,_California


Orange County, CA
See What Homeowners Say About our House Painters in Orange County, CA:
Orange County Painting Pros appreciates your feedback. Please give us more time to collect your reviews and they will be displayed below.
---
Recent Articles
How To Use A Roofing Inspection To Your Advantage

Your home is your biggest and most valuable investment, and your roof is what protects it. Your roofing is the first line of defense against the elements and is what safeguards the structural integrity of your house, as well as the people and property inside. That being said, it should be obvious that addressing the...

Read More
4 Signs That You Need Repairs For Your Wooden Deck

A wooden deck can be a wonderful addition to your home, giving you and your family or friends an excellent outdoor hangout space, or just giving you a quiet little sanctuary to escape and just enjoy the outdoor areas of your home. Your home's deck is a major investment both in the value of your...

Read More
If you are looking for an Orange County Painting Contractor, give us a call at 949-929-2763 or fill out our online request form.