Elastomeric Coatings & Stucco Waterproofs And Protects Your Home!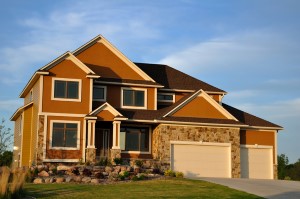 How would you like to have an elastic coating completely encompassing your home, making the surfaces practically impervious to anything the weather can throw at it? Elastic Stucco? Elastic Roof Coating? What a concept.
Even though we can't quite coat your windows yet, we can put an elastomeric coating on your roof and your home's siding materials, along with sealants that are equally flexible and durable, which seals all your exterior building materials and can protect them for up to 30 years from damages.
We're there with today's new technologies that are applied to exterior coatings now available on the market. These coatings are durable and tough, flexible, and highly protective.
Elastomeric Stucco
You've never seen a stucco product before like the elastomeric stucco. This stucco finish is infused and treated to look exactly like the original stucco product. While the original stucco product can also be coated with an elastomeric coating, this solution has everything built in including over 10,000 color options and several texture options.
From Sand finishes to heavy southwest stucco finish
Highly resistant to cracking
Highly flexible in all seasons
Non fading color
Highly Durable
Mildew and mold resistant
Complete Moisture Barrier
Breathable
Rust Preventative
Class A Fire Rated
Available for new construction, Retrofits, or Repairs
Suitable for Climates from -70°F to 180°F
It really wasn't that long ago that customers demand for better building products for their homes came into affect, making manufacturers start paying attention to our needs for better and more eco-friendly materials. Every day, it seems there are more products on the market to make our lives easier.
With elastomeric coatings, our homes can now be treated with products that lengthen the life of all the exterior building materials. These coatings can be applied to just about any surface including natural stone, wood, metals, clay, asphalt shingles, tile, brick, and more.
Elastomeric coatings and stucco have unnoticeable benefits as well. They are VOC compliant, which means they don't produce harmful levels of vapors that are toxic to the environment or to you. They resist damages from UV rays, ozone, airborne contaminants, insects, and more.
Plus, if you really want to, they can be painted over later or in the beginning to match your home's color scheme. All the way around, you'll already have a water tight seal.
The one thing you'll need to concern yourself with is that you need a professional company to apply the material. It takes several steps that aren't complicated but are difficult. And if not done exactly right, you can end up with moisture infiltration, which can be very costly to repair.
At Orange County Painting Pros, we know all about what's on the market today in the way of elastomeric coatings and elastomeric stucco. We keep up to date on all our education and any certifications we may need from the manufacturers. Since 1976, we've provided exceptional painting services to the Orange County area. Put your home in the very capable and friendly hands of Orange County Painting Pros today!
If you are looking for Elastomeric Coatings in Orange County then please call 949-929-2763 or complete our online request form.