10 Secrets to a Perfect Paint Job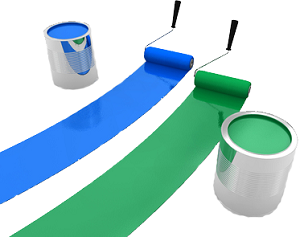 Painting the inside of your house might seem like a daunting task, and many Anaheim homeowners don't feel up to the task. Although it's often a good idea to hire a pro, here are ten little secrets to a perfect paint job, which can help you get a smooth finish and a satisfactory result.
Water-based paint is as good as oil-based. Oil-based paints were favored in the past because of their sheen, but modern water-based paints are just as glossy. They also dry faster and don't smell as strong.
Use about 1 gallon for every 350 square feet.
Remember to clean the walls first! Cleaning with water and a little soap will remove dust, dirt, and grease that could interfere with your goal of a smooth finish. Be sure to rinse with some water.
Use blue painter's tape to protect the edges. Avoid overflow onto floors, ceilings, baseboards, and other areas by lining the walls. Right after you're done, and before the wall dries, remove the tape. This will keep any paint from being peeled off with the tape.
If you're painting a lighter color over a darker one, use primer. This will help create a neutral surface that prevents the old color from bleeding through. Many professional painters recommend alcohol- or alkyd-based primers over latex. In many cases, though, you may not need primer at all.
Use a lint roller on your paint roller. Cheap paint rollers are covered in little fuzzy bits, which can get trapped in the paint and make it look uneven or bumpy. A lint roller will take care of this problem to ensure the smoothest possible finish.
Use plastic wrap on objects near walls. For sinks, toilets, and other objects that you can't move out of the way, some plastic wrap will help prevent pain from splattering on them.
Invest in a high-quality paintbrush. Good brushes are among the pros' secrets to a perfect paint job. You might spend as much as $25 on a premium brush, but the difference will be worth it.
Paint a wall from the top downward. This prevents dirt and grit from the floor from getting onto your brush and into the paint.
Place a rubber band across the center of your paint can. This is for wiping excess paint off of your brush, making less of a mess than wiping it on the edge of the can.
While you're painting, roll up the full height of the wall. This will help ensure a smooth, professional finish, preventing visible lines or marks from the rollers.
Mix cans of paint in a larger bucket. This helps keep the color consistent.
These little tips are some of the secrets to a perfect paint job, and can help you create a smooth, flawless finish, just like the pros. If you're still not sure, though, you may want to just go ahead and hire a professional. Orange County Painting Pros are Anaheim's best choice for a perfect paint job every time.
If you need a professional painting contractor, call Orange County Painting Pros at 949-929-2763 or complete our online request form.