How to Avoid Big Mistakes with Interior Painting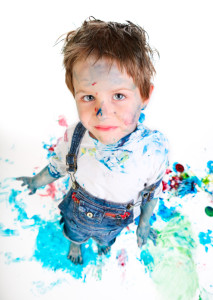 Interior painting is one of the more enjoyable aspects of designing or changing your home. Picking the color of your dream home helps you express your individuality. Taking the dream home you have lived in for years and changing the look with new paint colors is like getting a new place.
However there are some pitfalls to watch out for. Before hiring your interior painters and making a huge mistake, here are a few things to keep in mind:
Avoid super trendy colors – you will soon tire of these colors and have to pay to have your walls repainted. Try using the trendy colors on things that are easy to replace like throw pillows.
Test run – For bolder choices you can still play it safe, first. Paint a large board that color and prop it in the room for a few days and see how you like it.
Sample it out – Try using unique colors in small rooms (like a powder room) and if you still can envision it in larger rooms, move forward with it.
Consider all lighting – Test your color swatches with natural day light and at night with the lighting in the room. This can help you see a color for what it truly is.
Take the ambiance into account – Red may be your favorite color but will it create a calming effect in your bedroom? Let the color match the feel of the room or the mood you want to create
Making the Smart Choice for Your Home
While it is possible to change your paint colors weekly if you really felt like it, who would want to go through the aggravation of weekly interior painting? If you are going with a neutral and subdued color choice you have less to worry about. Otherwise, do not rush into choosing your colors.
Believe it or not, it can take months to choose just the right color. Pick even one color and then look at all the varieties and shades available for that one color. It can be mind-boggling.
Bring in the Experts
So take your time when it comes to your choices for interior painting colors. There really is no good reason to rush this type of decision. If you lack inspiration simply consider nature's color palette around here in gorgeous Orange County, California.
You could also trust in an expert to help you make your choice as well as do the interior painting for you. Here at Orange County Painting Pros we take care of everything from start to finish. And yes, that sometimes includes helping choose the paint colors. With almost 4 decades in the industry we have plenty of experience and expertise to get even the toughest paint jobs completed.