Why Use Premium Paints vs. Cheap Paint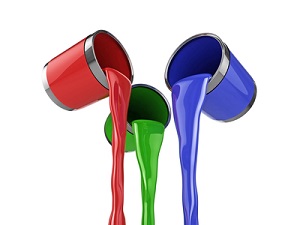 When it comes time to apply a new coat of paint, it can be difficult enough determining what color scheme you want to go with, and chances are that you haven't taken into consider the quality of the paint that you might be using. As is often the case with many things, if you take the cheaper route, you are likely to end up with results that are less than satisfactory. The difference that premium paint can make when repainting the exterior of your home, and a variety of other surfaces, can often be significant.
As far as most paints go, they are only going to last on the exterior of your home for around 5 years before wear, weathering, heat, and moisture, start to have a negative effect on them. Unlike premium paints, cheaper options often are not built to be especially moisture, cold, heat, or snow resistant. Premium paints however have been tested against these environmental concerns, and are built to provide a lasting finish; some premium paint brands even come with a lifetime guarantee, which you will never find with the cheaper ones.
Premium paints are often available in a wider variety of color and sheen options, without sacrificing durability. Some sheen, such as matte finishes, is notoriously prone to damage and wear, but if you decide to have premium paints used, this is no longer a concern. Premium paints are built to last, and can withstand wear that would cause serious damage to cheaper brands.
Cheap paints may not adhere to every surface well. This is a major concern when painting vinyl siding, or other structures outside of your home that may not be made of the material that these paints are designed for. Instead of being made to adhere as best as possible, cheaper paints are simply designed to cut costs. With premium paints you can get the color and sheen you want, while also having a choice of paints that are specifically designed for the surface you have in mind.
Instead of making the mistake of going with more affordable paints, avoid cutting corners where you should not, and take advantage of having premium paints applied by a knowledgeable contractor. The skilled staff at Orange County Painting Pros will be able to help you pick the paint that is right for your individual needs, and will guarantee lasting results.
If you are looking for an Orange County painting contractor please call us at 949-929-2763 or fill out our online request form.