Orange County Stucco Repair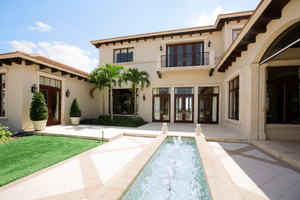 Many houses in Orange County, CA use stucco for the exterior. It's a popular building material, and it looks great in our coastal area. However, stucco structures are often prone to unsightly cracks and water damages. Despite how hard stucco is, when a building settles or is subject to any vibration or thermal expansion, cracks are bound to pop up. And when the cracks form, it's easier for water to penetrate the porous surface beneath the stucco, leaving you with serious structural damages. So when cracks start forming in your home's stucco, be sure to call the Orange County stucco repair experts at Orange County Painting Pros to prevent further deterioration of your home's exterior.
Stucco, in a nutshell, is an exterior cement plaster wall covering widely used in Orange County, CA. It is often used over concrete but may also be used over block, wood, and metal framed buildings. While it looks great most of the time, those cracked areas do more than damage the building materials – they ruin your property value. Improve the overall aesthetics of your home with professional stucco repairs in Orange County, CA by our experts at Orange County Painting Pros.
Our Orange County painting contractors make stucco repairs to damaged areas of both homes and businesses, helping our clients return their property to its original condition. If you are planning an exterior painting project, make certain any stucco repairing work is done prior to the paint job. Nothing looks worse on a new paint job than an unsightly stucco patch. Thankfully, when you hire us to be your Orange County painting contractor, you won't have to worry about bad looking stucco repairs or exterior painting work. We've got over 40 years of local experience in the painting service industry, and we know Orange County buildings! You can rest assured we'll have your stucco repaired and looking great again in no time. You won't even be able to tell there were damages – we'll ensure the stucco patching blends in seamlessly with the surrounding area.
Call Orange County Painting Pros today for a stucco repair estimate or to schedule service.
Recent Articles about Stucco Repairs in Orange County, CA:
How to Avoid Big Mistakes with Interior Painting

Interior painting is one of the more enjoyable aspects of designing or changing your home. Picking the color of your dream home helps you express your individuality. Taking the dream home you have lived in for years and changing the look with new paint colors is like getting a new place. However there are some...

Read More
George Parks Roofing & Painting Recieves 2014 Best of Newport Beach Award

Newport Beach Award Program Honors the Achievement NEWPORT BEACH July 3, 2014 — George Parks Roofing & Painting has been selected for the 2014 Best of Newport Beach Award in the Painting Contractors category by the Newport Beach Award Program. Each year, the Newport Beach Award Program identifies companies that we believe have achieved exceptional...

Read More
If you are looking for Stucco Repair in Orange County, please call us at 949-929-2763 or fill out our online request form.