Termite Repair Services By Orange County Painting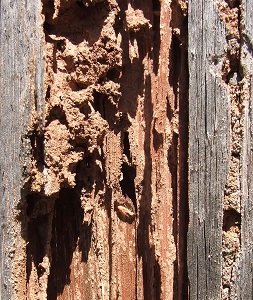 When you have termite problems, you not only need to exterminate your property, but you will also need to repair the damage already caused.
Termites can structurally demolish a home. The longer the issue goes untreated, the less structurally sound the home is. It is common for property owners to put off the issue, but they find out later what a huge mistake it was to delay.
When you have a termite infestation that has damaged your home, you will need a certain type of professional that can handle the situation. Calling an exterminator is a no-brainer first step. But getting the wood repaired when the infestation is cleared is not always a service every construction contractor provides.
It takes a certain type of professional who is widely skilled to handle a termite repair job. The contractor must be skilled in many areas and not just in one.
The professional repair person should be educated and experienced in all aspects of the installation and repair of roofing, windows and doors, siding, framing, decks, floor joists, hardwood floors, shower pans, bathroom floors, gates and fencing, rafters, fascia, and an entire list of indoor wood repairs such as cabinetry, trim work, drywall, painting, caulking, and more. They need to be able to repair any termite damage found in the home's construction.
How We Can Help
At Orange County Painting Pros, we can take your termite damage, remove it, and replace it no matter where it's located or what it is attached to, indoors or out. If there is ever an issue with repairs, we will keep you informed. We will take your home from termite damaged to completely restored.
Our professional, expert team has been providing wood repair services for termite damage and other painting services since 1976. We are a state licensed company and fully insured. We are not just painters, but are professional renovators providing services such as:
Painting Services
Texture Finishes
Wood Repair
Stucco Repair
Wood Staining
Waterproofing
Pressure Washing
Window Restoration
Acoustic Ceiling Removal
Drywall Repair
Termite Repair


At Orange County Painting Pros, we can repair any surface that has been damaged by termites, including replacing your windows and doors, roofing, siding, or other items. Our termite repair specialists will work hard to restore the structural and aesthetic integrity of your home.
Your home is probably one of your largest investments ever made. With the cost of a home, it is easy to see that getting termite repairs done is only a drop in the bucket when compared to how much money you will lose on your home if you have to sell it for less due to termite problems.
Call us today for a free estimate. We will be glad to come out and give you an honest, up-front quote
Recent Articles about Termite Repair in Orange County:
4 Signs That You Need Repairs For Your Wooden Deck

A wooden deck can be a wonderful addition to your home, giving you and your family or friends an excellent outdoor hangout space, or just giving you a quiet little sanctuary to escape and just enjoy the outdoor areas of your home. Your home's deck is a major investment both in the value of your...

Read More
Why Use Premium Paints vs. Cheap Paint

When it comes time to apply a new coat of paint, it can be difficult enough determining what color scheme you want to go with, and chances are that you haven't taken into consider the quality of the paint that you might be using. As is often the case with many things, if you take...

Read More
If you are looking for a termite repair service company, please call Orange County Painting Pros at 949-929-2763 or fill out our online request form.