Orange County Waterproofing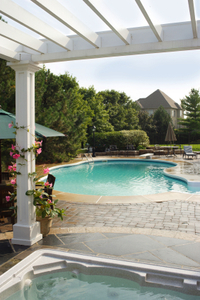 Living in Orange County, CA you know how important waterproofing can be for exterior surfaces around the home. At Orange County Painting Pros we're here to help you ensure you get optimum results with our professional waterproofing services. As your Orange County painting contractor with decades of experience in the business, Orange County Painting Pros only uses premium quality waterproof coatings that are known for their superior protection and lasting results. This ensures our customers get total protection for their exterior surfaces as well as great satisfaction from our company's work. We love keeping our customers happy, and happy customers often turn into repeat and referral customers! So you can rest assured our Orange County waterproofing experts will do all they can to ensure your project is completed with top notch results.
What is waterproofing? Waterproofing in general means making objects repellant to or resistant to water. In terms of home improvement, it's a great way to protect your investment from water damages, warping, rotting, and other types of issues brought on by moisture. Whether it's because you live in a coastal area or have a pool installed in your backyard, Orange County waterproofing is a worthwhile investment if you want to make your exterior building materials last.
There are many types of waterproofing products available in today's market, including fluid applied, troweled application and layered fluid over fabric type waterproofers. Unlike elastomeric paints which offer flexibility of movement, waterproof coatings are available in clear or opaque finishes and are "set".
Some common surfaces we apply waterproof coatings to in Orange County include walls, stucco, concrete or other porous surfaces that could benefit from waterproofing. To learn more about the service provided by our Orange County waterproofing experts, please call us at 949-929-2763.
Recent Articles about Waterproofing in Orange County, CA:
4 Signs That You Need Repairs For Your Wooden Deck

A wooden deck can be a wonderful addition to your home, giving you and your family or friends an excellent outdoor hangout space, or just giving you a quiet little sanctuary to escape and just enjoy the outdoor areas of your home. Your home's deck is a major investment both in the value of your...

Read More
Specialty Faux Finishes For Laguna Hills Interior Painting

When you have your Laguna Hills home painted on the interior, you have several options in specialty faux finishes that you can use to create drama with these unique painting techniques. Little extra touches when it comes to your interior design can make your home's interior look fabulous and interesting. Specialty painting techniques are one...

Read More
If you are looking for Waterproofing in Orange County, please call us at 949-929-2763 or fill out our online request form.