Orange County Wood Staining & Sealing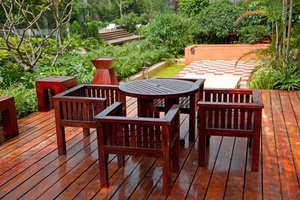 A beautifully stained wood deck is only as beautiful for as long as the stain lasts. Unfortunately, without proper application or a quality, reliable product, you could find your wood deck looking shabby and older than it is in no time at all. Let the Orange County wood staining specialists at Orange County Painting Pros ensure your deck or other wooden furnishings retain that stain long after we're finished. We specialize in the application of stains and clear sealers for all types of wood surfaces. Whether interior or exterior, you can rely on our painting contractors for wood staining, deck staining, deck sealing, wood sealer application, and more in Orange County, CA.
Deck Staining in Orange County, CA
Whether you have a new, unfinished deck or an older deck that could use reviving, our Orange County wood staining specialists are happy to assist you. We can make your weathered deck look like new with the proper cleaning, staining, and sealer application.
Wood weathers over time, and you might see that your once-beautiful outdoor deck is leaving much to be desired in your outdooring living experience. Whether from moisture, sun fade, traffic, location, temperature or all of the above are contributors to your deck's degradation, you can rely on the honest Orange County painting contractors at Orange County Painting Pros to restore it to its former glory.
Our painters also provide wood staining services for the interior of your home. Have some unfinished trim or molding you'd like stained? Let us help you choose a high quality wood stain that is sure to suit your needs and style preferences.
Our Orange County Staining Specialists' Services Include:
Wood Staining
Deck Staining
Deck Sealing
Wood Sealer
Wood Stains
Siding Staining
Deck Refinishing
Clear Sealer
Protective Coatings
Recent Articles about Wood Staining in Orange County:
How To Use A Roofing Inspection To Your Advantage

Your home is your biggest and most valuable investment, and your roof is what protects it. Your roofing is the first line of defense against the elements and is what safeguards the structural integrity of your house, as well as the people and property inside. That being said, it should be obvious that addressing the...

Read More
Newport Beach Exterior Painting for Home Improvement

There are a number of ways to improve a home in Newport Beach, CA, including decorating with art, rearranging furniture and changing the curtains; but one of the most striking modifications that can be done to a house in Newport Beach and beyond is to alter its paint color. Aside from painting the interior walls, Newport...

Read More
If you are looking for deck or wood staining in Orange County, please call us at 949-929-2763 or fill out our online request form.