LOOKING FOR A TUSTIN PAINTING CONTRACTOR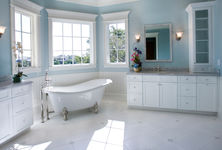 If your Tustin home is undergoing a major remodel, you are building a new home, or you just want to put a vibrant new paint job in your bathroom, then you will need the service of a Tustin painting contractor. A painting contractor is the best way to make certain that you get the results you want without the hassle of doing it yourself. When you get the assistance of a professional painting contractor like those from Orange County Painting Pros you are going to get great customer-service, a quality end product, and expert advice so you can achieve the look for your home that you have envisioned.
Contact the professional painting contractors at Orange County Painting Pros today to see about a free consultation today. We will let you know upfront what it will cost to have your home looking just the way you want it.
Tustin Interior Painting
Sometimes you are just ready to give your home an entirely new look, and when that time comes we offer the most experienced interior painting experts around to make that happen. Getting the assistance of an interior painting contractor is a great way to get the advice needed to make certain that you get the exact feeling that you want your rooms to convey. Selecting a color-scheme is not as easy as deciding on what will look good, the tone you choose can convey very different emotions and even affect mood and productivity.
Orange County Painting Pros offers the very best in interior painting contractors, who have several decades of experience providing Tustin, CA with the absolute best in interior painting.
Tustin House Painter
Your home's paint job is under the duress of the weather year round, which can cause it to fade and paint over time. When this happens the problem is more than simply a cosmetic one, as your paint job is the very first defense your home has against potentially harmful organisms and insects. Without a coat of paint to protect your home that means it is more vulnerable to rot and other concerns that could cause expensive and lasting damage. You want to make sure you have an experienced house painter handle your exterior to provide you with a paint finish that not only looks great but will last for years.
The Orange County Painting Pros experts have the most skilled house painters, so contact us for a free consultation today and find out the difference that our expert staff can make.

Tustin, CA
See What Homeowners Say About our House Painters in Tustin, CA:
---
Family owned, they apply their personal values to their business and I can honestly say that this is one of those rare companies with a virtuous work ethic that rivals that of any other. I can not recommend them enough. Go with Orange County Painting Pros if you want a fair deal and to work with genuinely good people.

---



Recent Articles
How to Avoid Big Mistakes with Interior Painting

Interior painting is one of the more enjoyable aspects of designing or changing your home. Picking the color of your dream home helps you express your individuality. Taking the dream home you have lived in for years and changing the look with new paint colors is like getting a new place. However there are some...

Read More
Why Use Premium Paints vs. Cheap Paint

When it comes time to apply a new coat of paint, it can be difficult enough determining what color scheme you want to go with, and chances are that you haven't taken into consider the quality of the paint that you might be using. As is often the case with many things, if you take...

Read More
If you are looking for an honest Tustin painting contractor, please call us at 949-929-2763 or fill out our online request form.