VILLA PARK PAINTING CONTRACTOR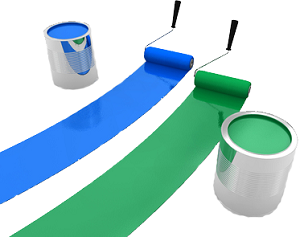 Villa Park, an affluent city in California, is located in northern Orange County. As of 2010, the city population was 5,812, which was slightly down from the 2000 census count of 5,999. It is noted to be the smallest city by population in the county.
Villa Park holds no public parks within the city limits. However, many homes have their own recreational activity areas including pools and tennis courts. The area has winding streets, few sidewalks, and limited street lights, however there are plenty of trees, flower beds, and planted medians and parkways that add to the beauty of the area.*
If you live in Villa Park, you'll be interested to know about our painting services. We are located nearby in Anaheim and have been serving Orange County residents since 1976. Painting Pros is a painting contractor who specializes in a number of painting services. Orange County Painting Pros loves to paint and would like to serve you with the expertise our Villa Park painters have gained over the last forty years.
Stucco Repair in Villa Park
Stucco is a common material but it takes skill to apply. For repairs, the stucco has to be matched precisely by color and texture and style. Working with the material is not easy, but our professional team of painters are experts at it. We've done many commercial and residential repairs on stucco surfaces.
Interior & Exterior Painting in Villa Park
Painting your home will do wonders to create a brand new look for your house. Whether you repaint the interior or exterior, you'll be making a huge difference in how your home looks. What's great about repainting is that you get to create a whole new design if you want to. You can bring your home up to date with a fresh, new modern look or take it back in time to days of royalty and luxury.
If you're looking for sophisticated design done by skilled, expert painters, look no further than Orange County Painting Pros. We've been around for a long time, spending the last forty years gaining expertise and making many new friends and customers. We'd love the opportunity to give you a quote for your interior or exterior painting project.
Our other services include:
Exterior Painting
Interior Painting
Wood Repair
Termite Repair
Stucco Repair
Waterproofing
Window Restoration
Stains & Clear Sealers
Acoustic Ceiling Removal
Textured Finishes
Drywall Repair
Power Washing
*Sources: http://en.wikipedia.org/wiki/Villa_Park,_California
See What Homeowners Say About our House Painters in Villa Park, CA:
Orange County Painting Pros appreciates your feedback. Please give us more time to collect your reviews and they will be displayed below.
---
Recent Articles
How to Avoid Big Mistakes with Interior Painting

Interior painting is one of the more enjoyable aspects of designing or changing your home. Picking the color of your dream home helps you express your individuality. Taking the dream home you have lived in for years and changing the look with new paint colors is like getting a new place. However there are some...

Read More
Elastomeric Coatings & Stucco Waterproofs And Protects Your Home!

How would you like to have an elastic coating completely encompassing your home, making the surfaces practically impervious to anything the weather can throw at it? Elastic Stucco? Elastic Roof Coating? What a concept. Even though we can't quite coat your windows yet, we can put an elastomeric coating on your roof and your home's...

Read More
If you are looking for a Villa Park Painting Contractor, give us a call at 949-929-2763 or fill out our online request form.